Health Care by the Numbers
Medicare, Medicaid, Children's Health Insurance Program, and the Health Insurance Marketplace help provide health care coverage for more than one hundred million people in the U.S. Overseeing those four programs, as well as the programs attached to them, is the Centers for Medicare and Medicaid Services (CMS).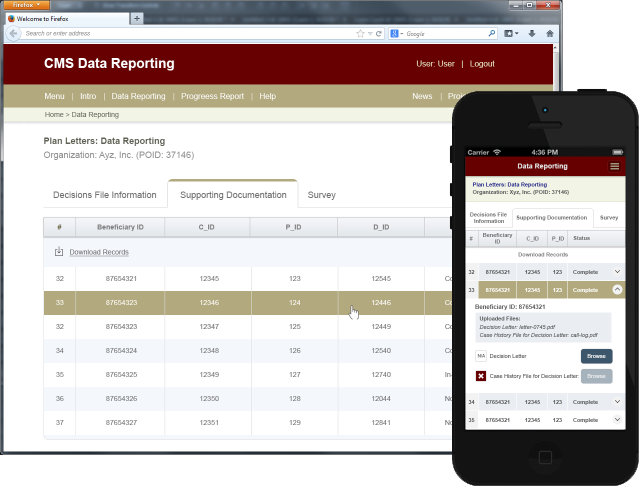 Handling Health with Care
Our data collection system was set up to encourage insurance companies (sponsors) of all shapes and sizes to follow best practices. They achieve this through various programs. As such, the CMS processes a vast amount of data every day, and this necessitates a particular sort of infrastructure.
At WebFirst, building web and mobile data collection infrastructure is one of our specialties. Centers for Medicare approached us with the need for a system to collect data, check it for errors, and make it easy to parse to aid in important decision making.
For example, Centers for Medicare requires sponsors to establish and submit Medication Therapy Management programs (MTMP). This program allows pharmacists to work with doctors, nurses, and other health care workers to help prevent adverse reactions by keeping everyone in the loop.
The Outbound Enrollment and Verification program is another that's closely watched. Medicare and Medicare Part D sponsors are required by the program to contact new enrollees to make certain they understand their new plan. The number of calls they complete, types of questions asked, and other information are all logged in the system. This and the MTMP program are just  two examples of data collection projects we have helped facilitate for CMS.
Shaping the Future in Health Care
Metrics from the data these two systems and others provide help steer decisions regarding policy updates and changes, new and refined procedures, and training for workers at different levels—all to the benefit of people that most need help.
To complete this project effectively, we first followed the regular HHS EPLC life-cycle standards. Next, our system placed a priority on efficient data streams, error-checking algorithms, and tailor-designed web forms. We look forward to continuing our focus on and dedication to improving the system in the future, and contributing to the care of so many people.