Web-Based Labor Estimating Manual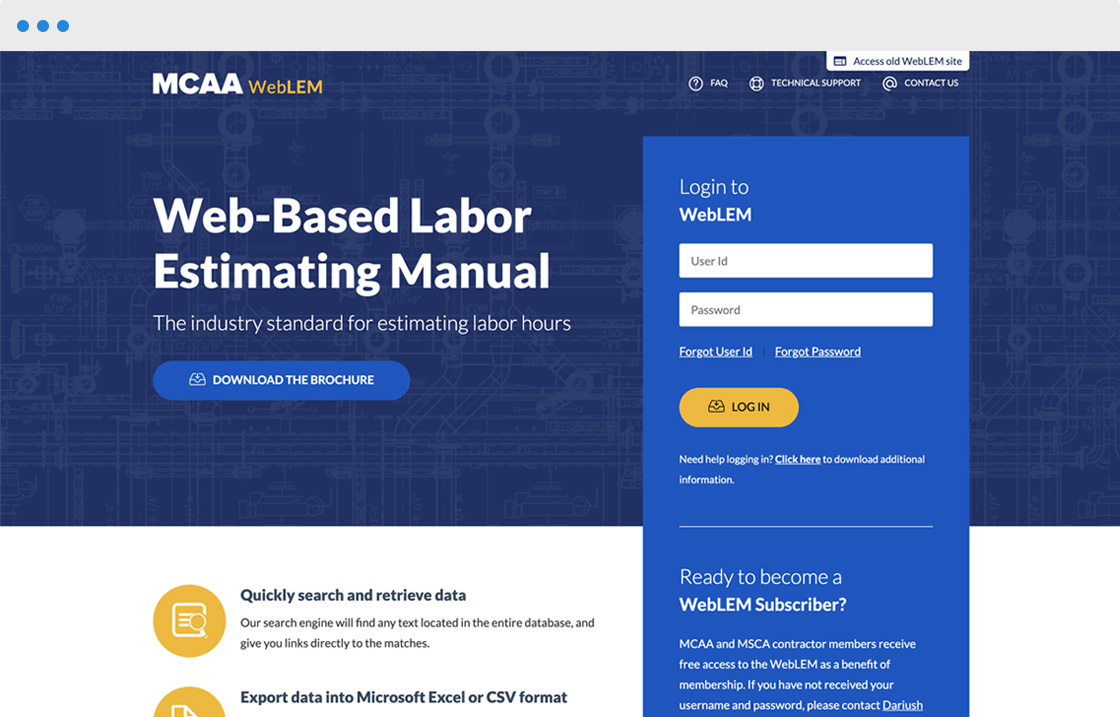 WebFirst is here for the assist with Mechanical Contractors Association of America (MCAA) Web Labor Estimating Manual (WebLEM) project!
MCAA directly serves the heating, air conditioning, refrigeration, plumbing, piping, and mechanical service world – welders, contractors, plumbers, manufacturers and students obtaining education and certification in these related fields.
When MCAA came to WebFirst, Inc. they needed to update their Web Labor Estimating Manual – a reliable tool used for and depended upon to plan typical project tasks by calculating Labor Units (e.g. the labor time it should take to install a plumbing fixture broken down by its component tasks). This involved migrating and converting a massive amount of data from a legacy system to a new platform, amplifying their search capability and detail, mapping and taxonomy, automation of Labor Unit calculations, adding functionality for national manufacturers to upload their product information to the site, as well as rebranding their website – and more!
These upgrades and changes are assisting them and their consumers by allowing MCAA to manage the large amounts of data with an improved platform; WebLEM members can quickly search and retrieve pertinent information; manufacturers are able to upload products with proper SKU#s that directly tie into the calculated Labor Units required for projects.
 
How did WebFirst assist?
WebFirst, in conjuction with MCAA, developed an algorithm to determine the labor units (time) based on a number of factors including materials, joining methods, rating class, pressure, etc. Previously, these calculations were being performed by hand using MS Excel. By automating these calculations, WebFirst's system assists the MCAA and internal stakeholders by streamlining the process, saving time and dollars expended. Moreover, we created an API for manufacturers to directly upload their products with the right detail. We enabled MCAA to define and classify parts using their existing taxonomy, Building the foundation and amplifying their search detail it served to future proof accuracy of labor units and data retrieved.