MODERNIZING THE USER EXPERIENCE FOR THE OUTDOORS OF TODAY
The Department of the Interior and its nearly 20 sub-agencies protect and provide access to our Nation's natural and cultural heritage and honors our trust responsibilities to tribes and our commitments to island communities. The department manages over 507 million acres (2,050,000 km²) of surface land, or about one-fifth of the land in the United States.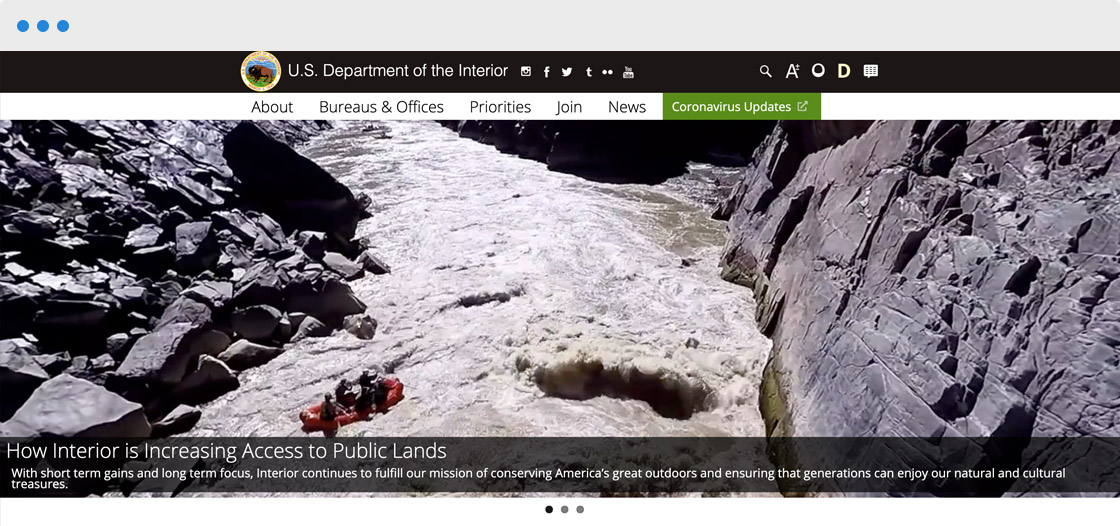 BRIDGING TECHNOLOGY AND NATURE, VIA DRUPAL
DOI came to WebFirst with a need to assist with design, UX/UI and Drupal website maintenance expertise. Our goal: to improve the doi.gov site by enhancing the user experience, customer experience and functionality of the website. Our team of professionals meticulously improved upon the design, created an experience that would have an ease of use that would be sure to captivate a tech-savvy audience that possesses a love for natural aesthetics. In addition to our UX/UI enhancements, we currently maintain the social media, video streaming, search engine, mobile responsive, and other dynamic components of the website. The WebFirst team is also working with various groups within DOI, to maintain, upgrade and enhance their websites. These sites are a combination of Drupal 7 and Drupal 8 websites.