Health and Human Services (HHS)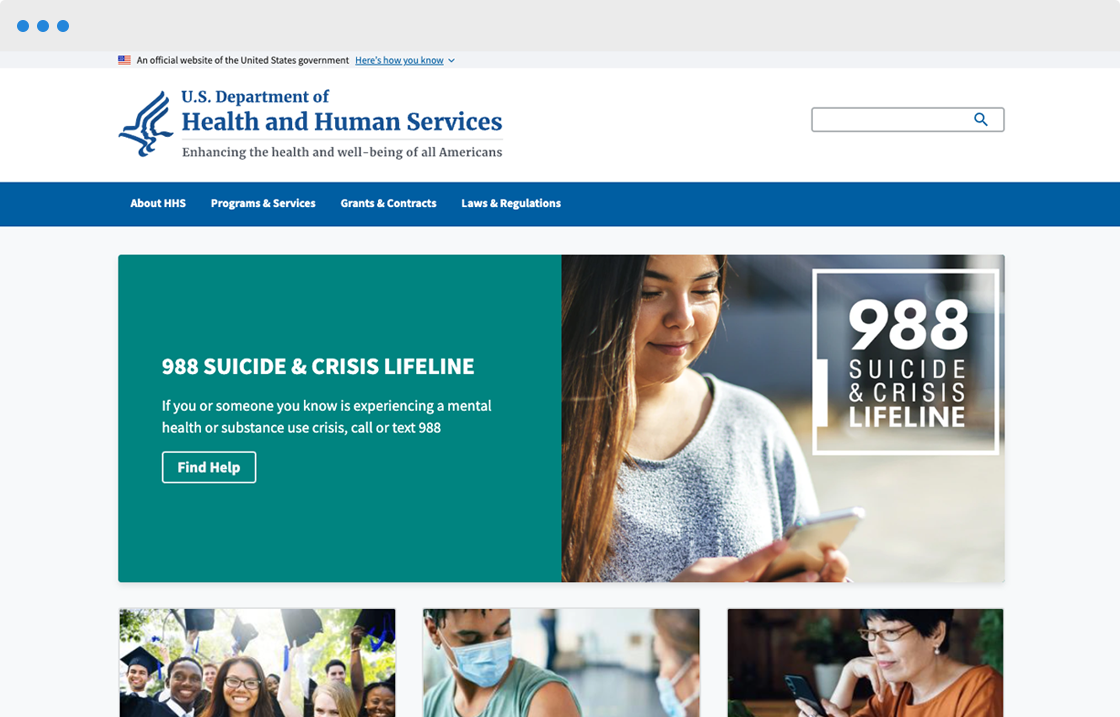 Enhancing Digital Communications Support Services for HHS.gov
WebFirst is currently supporting the U.S. Department of Health and Human Services (HHS) on the  Digital Communications Support Services (DCSS) project. Our primary goal is to improve the support and maintenance of HHS website, the main digital communications platform. By partnering with  HHS, the WebFirst team is enhancing customer experience and adopting human-centered design principles.
Our service desk is responsible handling various support tickets from HHS' clients. Our ticket resolution is rooted in effective technical support. Moreover, we provide Customer Experience (CX) and User Experience (UX) capabilities - usability research leading to valuable insights and ideas to improve the website's navigation and ease of use. We also provide content strategy, ROT Analyses and plain language writing services.
Our applications development team focuses on application development and support for the hhs.gov website. We develop, release, and deploy maintenance requests and applications that support HHS.gov. As an example, we have integrated the We Can Do This (Covid-19 public education) site into the main Drupal (hhs.gov) website.
For the HHS.gov website, WebFirst successfully launched a U.S. Web Design System (USWDS) based Drupal Theme (utilizing Patternlab) creating a component-based theming process. This standardized the design elements across the website, ensuring consistency and a cohesive user experience.
Building on previous engagements, the project successfully migrated HHS.gov from Drupal 7 (D7) to Drupal 9 (D9). Our migration improved the website's performance, security, and scalability. Additionally, we established agile processes in order to streamline development and project management, enabling iterative improvements and flexibility.
We are proud of our work in public health in support of HHS's mission!