We Build Engaging Mobile Apps!
We love taking your ideas and turning them into apps. From Behavioral Games to Data collection, we've got you covered. WebFirst has developed mobile apps for non-profits as well as for federal agencies. Using various open source platforms, we have also developed SMS (Text Messages)-based data collection mechanisms whereby users with standard mobile phones can collect data for a variety of health and Agricultural applications.
Platforms
Building engaging iOS, Android, and SMS Text-Based Applications
iOS Apps
Our developers understand the Apple ecosystem and how to build iOS that conform to Apple's rigorous guidelines.
Android Apps
Android is a core strength of WebFirst - having developed numerous native apps in health, education and international development!
SMS Application
For low resource or low coverage areas, SMS text applications using twilio, tropo, or plivio can help us build apps faster with lower costs.
Mobile App Development
Agile is the preferred approach for mobile development due the importance of collaboration, transparency, and rapid iteration to adapt to change.  Our practices of adapting to change are critical to finding success in the ever-evolving mobile channel.
We start with an idea, devlop a strategy, build out the UI/UX and then iterate through the mobile development process until you are satisfied! The result, a highly usable mobile app that gives you the best chance for high user adoption rates! Our team is also experienced in getting your app to pass the standards for Apple's iTunes Store and the Google Play store.
Native Apps vs. Responsive Web
One of the first decisions managers have to make with respect to mobile is whether they are going to just make their web product "friendly" for mobile screens or invest in developing a native mobile application. The pros of Responsive web apps is that the cost is lower, time to market is faster, and for basic applications navigation works well. The cons are that Responsive web can have slower performance, less functionality (i.e. camera, gps, etc.) and security is not as strong. Building a native app can be the way to go if you have the time and resources available.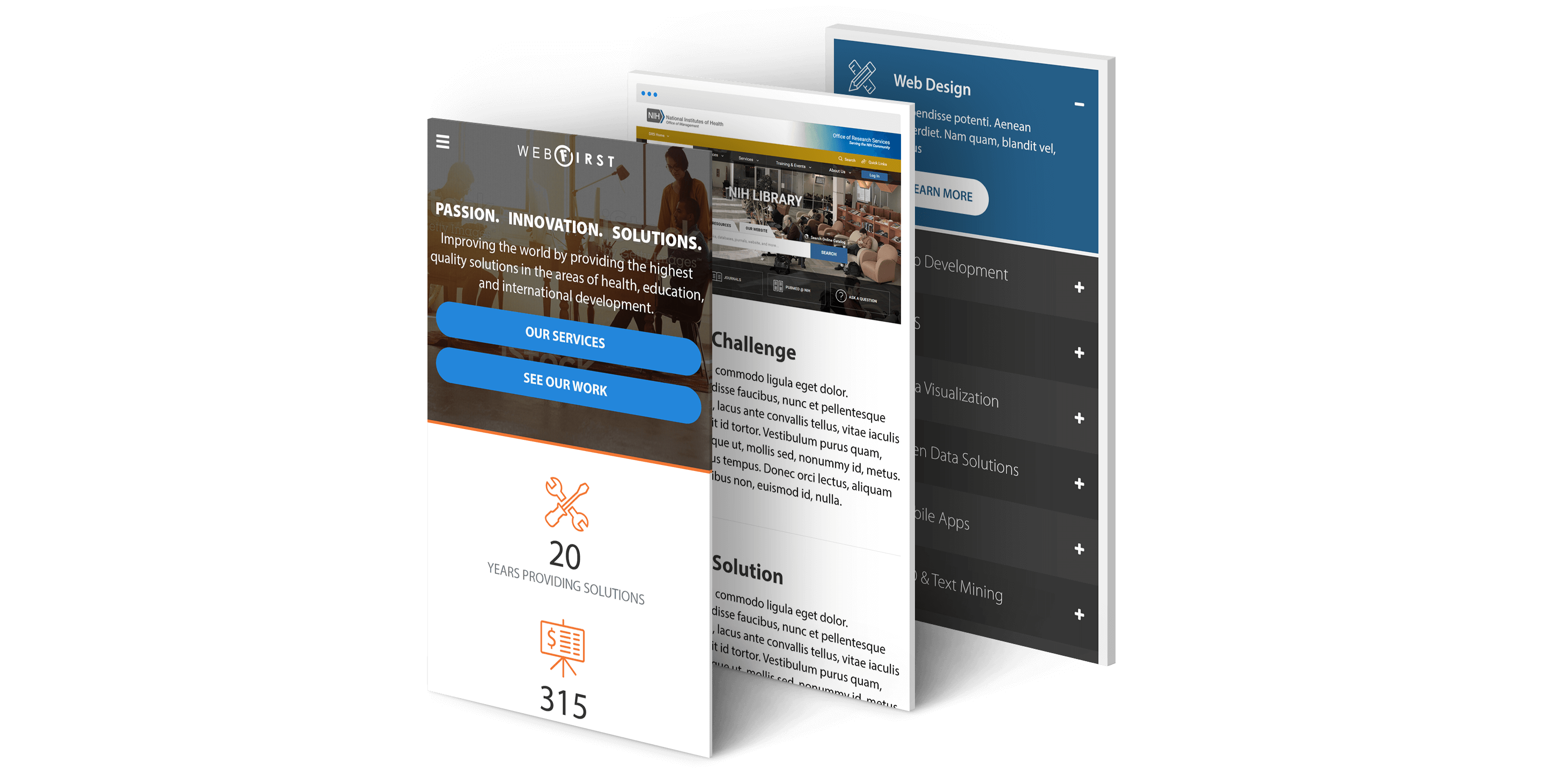 WebFirst's Open Source mHealth Data Collection
PhiCollect
With WebFirst's PhiCollect system, we have created an open source data collection platform that is flexible, scalable, cloud-based, and affordable. PhiCollect allows you to collect data from and publish to a variety of platforms (Web, Android, Apple iOS, SMS). We have leveraged two existing, well-established platforms in the design of our system - Open Data Kit integrated with the Drupal 7 (open source) framework.